Ready To Plump And Glow? Here are the two must-try skin treatments we are obsessed with right now!
Does your skin feel like it needs a post winter gear change, but you're not quite sure what to try? Well, we've got you babe…


These treatments are total game-changers! They're a whole new, revolutionising approach to skin rejuvenation - marrying skin health with cosmetic correction to bring you both instant gratification and long term skin wellness - and to say we are just a little obsessed is an understatement!... here's why: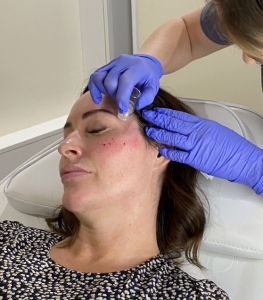 Beauty Boosters
A combination of collagen induction therapy and mesotherapy techniques, Beauty Boosters improve skin function and quality while correcting the early signs of ageing, all while giving your skin a naturally radiant glow.
A hydrating cocktail of hyaluronic dermal filler, vitamins, antioxidants, essential fatty acids and skin brighteners are delivered to the skin via tiny infusion channels, created by a dermal stamping device. They nourish and renew dull, tired and dehydrated skin through very fine needle punctures that also activate the skin's natural healing response, promoting new collagen formation and increasing elastin levels to firm, plump and correct skin imperfections such as scaring and pigmentation.
Available in two different treatment applications...
Hydrafuse with 20% Vitamin C
is the perfect any time beauty booster for all skin types, especially dehydrated, dull, lacklustre skin or skin suffering from the effects of environmental and lifestyle damage such as pigmentation, sun damage, broken capillaries and enlarged pores.
The 20% Vitamin C cocktail infusion not only helps to off-set potential damage caused by skin aggressors like UV damage and exposure to air pollutants that cause free radical damage in the skin, but it also prevents the formation of hyperpigmentation and powers the production of collagen and wound repair…(you can read more about the skin saving effects of Vitamin C
here
)
Hydrafuse with 20% Vitamin C also drenches your skin with plumping hydration and skin conditioning essential fatty acids that not only give your skin an instant glow, but also creates the perfect environment for your skin to function at peak performance.
Hydrafuse RICH with Hyaluronic Acid
is specifically formulated to improve hydration, tone and elasticity of the skin by replacing lost skin volume via the infusion of non-cross linked hyaluronic acid and highly concentrated glycerol. Hydrafuse RICH can reduce the appearance of fine lines as well as recondition your skin without the trauma and downtime associated with traditional dermal fillers.

Hyaluronic acid (HA), is a natural element of our body that fulfils important functions like maintaining the moisture levels, firmness and elasticity of the skin. Environmental factors such as excessive and intensive sun exposure, and the natural ageing process, contribute to the depletion of the body's own levels of hyaluronic acid. This causes the skin to becomes drier, thinner, and lose its suppleness and elasticity, causing lines and wrinkles to appear.

Unlike traditional dermal fillers, Hydrafuse RICH is not injected beneath the skin to fill lines or create shape and contour, but instead is infused into the skin to hydrate and improve overall quality and appearance.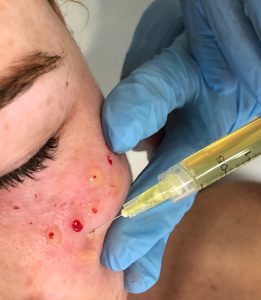 Vampire Facial
If you prefer to keep things all-natural, then a date with a Vampire may be more your style. Don't let the name fool you though, the Vampire Facial is not as scary as you may think but, it does involve blood… your blood. And that's the whole point - and why we (and many A-List celebs and influencers) are totally obsessed with this skin treatment.
You see, unlike other popular anti-ageing procedures, the Vampire Facial is one of the few procedures that does not require injecting synthetic based substances into your body, and the only injectable procedure that can also improve various skin disorders such as eczema, rosacea and dermatitis.
Also known as PRP (Platelet Rich Plasma), the Vampire Facial is more of a medical procedure than a traditional 'facial' and comes in a choice of delivery options, dependent on the results you are aiming to achieve. It involves the infusing of your own natural Platelet Rich Plasma into the skin via
microneedling treatment
or cosmetic injections. Once delivered into the skin, the stem cells and growth rich platelets extracted from your blood will boost the skin's natural production of collagen to produce a smoother, firmer, healthier looking skin.
And, as if that isn't impressive enough, PRP can also be used as a natural hair growth and regeneration treatment able to stimulate hair follicles of the scalp to improve hair thickness, volume and general scalp health.
Results are typically visible 2 weeks after your procedure however, because a Vampire Facial uses your own stem cells and growth rich platelets to assist in boosting and accelerating your skin natural collagen production, your skin will appear rejuvenated over time and full results are best seen around 4 months after your procedure… it literally is like growing younger with time!!
How to find out more

Ready to try something new? You can find more information on Beauty Boosters and Vampire Facials by clicking the links, or go ahead and book a complimentary consultation with the experienced team at Brazilian Beauty.