MEDICAL TEAM
MEDICAL TEAM
If your skin no longer reflects your youthful spirit, Brazilian Beauty can help you wind back the clock.
Some concerns simply can't be treated by skin care or hidden with make-up. That's why we offer a range of cosmetic facial Injection muscle relaxants. By addressing facial volume loss and the way in which muscles contract, Cosmetic muscle relaxant injections can help to reduce the symptoms and appearance of ageing, such as pronounced wrinkles, sagging skin and lost definition.
Our Cosmetic Injection Nurses and Doctors are available at Brazilian Beauty Clinics. For details of Cosmetic Doctors and Cosmetic Nurse anti wrinkle Injections offered at your nearest Clinic, please see below and contact your nearest clinic directly.
We'd love to answer your questions. For more information please read our FAQ's here or speak to one of our professional friendly team.
Anti-Wrinkle Injections: They reduce wrinkles caused by the continual and uncontrollable contraction of some of the tiny muscles of the face, which wrinkle up the ng skin.
The anti-wrinkle injection substance used is a modified form of a naturally occurring substance which blocks the signals muscles, which ultimately allows the skin to relax.
Dermal Fillers: Dermal fillers are gels with a hyaluronic acid base (like a sugar gel), which can be injected into certain areas of your face to either correct wrinkles, fill in deep scars or non-surgically change the shape of certain parts of your face. Hyaluronic acid is a substance found naturally in the body, and over time the dermal filler breaks down via normal body processes.
HOW DO THEY DIFFER?
Anti-Wrinkle Injections : The principle behind these anti-wrinkle injections is quite different to that behind other wrinkle reduction treatments. Dermal Fillers work on replacing volume- that of lifting and filling in facial volume in order to fill out wrinkles.
Anti-wrinkle injections work on a biological basis; blocking the signal from the brain which tells your wrinkle-causing muscles to contract.
Dermal Fillers : Compared to Muscle Relaxant injections , dermal fillers allow greater precision in wrinkle correction, and can more effectively treat medium to deep wrinkles. They do not cause any loss of ability to contract your facial muscles,
Compared to other methods of changing the shape of your face (such as your nose, lips or cheeks), dermal fillers offer the advantage of being non-permanent and creating a generally more youthful look.. Dermal fillers allow you to experiment with different facial changes in a non-permanent way.
Anti-Wrinkle Injections :  Anti-wrinkle injections are particularly effective in treating a specific type of wrinkle. If you have deep frown lines or forehead or crow's feet, anti-wrinkle injections may produce best results for you.
Dermal Fillers : The benefits of using dermal fillers include:
Fillers can reliably treat wrinkles at depths that other methods cannot

They are biocompatible and rarely cause reactions

The fillers can be dissolved by injection if there are any problems

They are non-invasive compared to surgical solutions
Anti-Wrinkle Injections : Any side effects that occur are temporary. The substance used for anti-wrinkle injections has been completely cleared by the Therapeutic Goods Administration in Australia, as well as the FDA in the US. Muscle Relaxant has been used for over 40 years therapeutically with minimal side effects.
Dermal Fillers : Ordinary side effects following dermal filler injections include swelling, redness, bruising and mild asymmetry as the inflammation settles down.
Anti-Wrinkle Injections : Anti-wrinkle injections are administered using a very fine needle and a very small amount of liquid. Many people say they feel like a mosquito bite.
Without local anaesthesia, we would rate the pain of anti-wrinkle injections for hyperhidrosis treatment at around 0.5/10.
Dermal Fillers : Local anaesthesia can be used if necessary, although it isn't needed for all patients.
Without local anaesthesia, we would rate the pain of dermal filler injections at around 2.5/10.
With local anaesthesia, we would rate the pain of dermal filler injections at around 0.5/10.
Tired and dry skin, laxity of skin, uneven pigmentation

Signs of skin ageing

Fine lines and wrinkles

Overall texture and tone improvement

Hair loss, thinning or signs of balding

People who may experience risk of allergic reactions from other treatments

People looking for a natural treatment using the body's own healing process
Natural ageing of the skin means that skin texture and appearance deteriorate over time. PRP is suitable for anyone seeking a more natural method to skin or hair rejuvenation. PRP regenerates by using your own cells, more specifically autologous platelet rich plasma (PRP). PRP is being used successfully with thousands of people across the globe to rejuvenate and slow down the ageing process.
For hair rejuvenation, PRP concentrates natural growth factors found in your blood to help stimulate hair follicles, for thicker healthier hair.
PRP is an autologous treatment, meaning it is your own cells being put back into your skin. We collect between 8 to 24 mls of your blood, which is collected in a similar way to a blood test.
The collected blood is then spun in a centrifuge using a specially designed tube that separates the PRP from the red blood cells. The PRP portion of the tube is then drawn up into a syringe ready to re-inject into the skin. A tiny quantity of platelet activator called Calcium Chloride may be added, which is found naturally in your blood.
Anti-Wrinkle Injections : You'll need a single treatment every 4 months. There is no cumulative effect with anti-wrinkle injections. Repeated treatments will depend on the individual and our medical team will be able to advise the best time to make your next appointment.
Dermal Fillers : A single treatment every 9-12 months is needed.
PRP : This may vary depending on your skin condition, lifestyle and expectations. Three treatments, 4 to 6 weeks apart is usual. Once you and your nurse are happy with the results you can maintain the look with top-up treatments every 1 to 2 years.
Anti-Wrinkle Injections : You can expect the full effect of your anti-wrinkle injections to be apparent after 3-7 days, and for the effect to last approximately 3-4 months.
Note forehead Botox treatment will only last approximately 6-8 weeks.
Dermal Fillers : Much of the difference you see after your initial dermal filler injection will be due to swelling; you should see the 'real' results after about 3 days. You'll be able to return to work and wear makeup immediately afterwards, although we recommend you don't commit yourself to any activities after your first-ever appointment.
PRP : Results are typically first visible 2 weeks after treatment, with full results around 4 months post treatment. Platelets stimulate the release of growth factors which assist in collagen regeneration, this means over time your skin will appear rejuvenated, younger and fresher looking. Results will vary from one individual to another.
Our
Beautiful
Team
Bonnie
Beauty HQ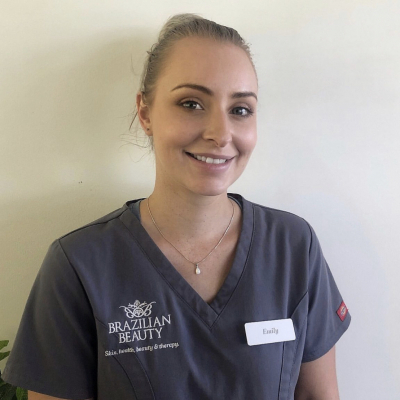 Emily
Beauty HQ, Morayfield, Redcliffe & Mango Hill