EVERYTHING YOU NEED TO KNOW ABOUT MAKEUP BRUSHES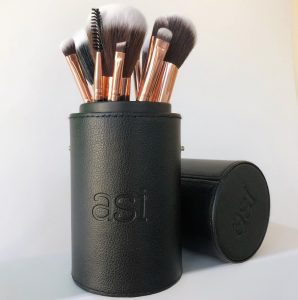 Brushes are the ultimate tool to help us achieve the perfect makeup look but there are so many options available with different sizes, shapes and purposes... Use this checklist to start or complete your kit!
1- Large Blending Brush
This brush can be used to apply foundation, blush, bronzer, powder and highlighters. It also works for the application of liquid and cream products.
2- Large Superpowder Brush
This Large Powder Brush can be used to set your foundation with... powder! But it can also be used to apply your bronzer.
Our Top Tip: Pinch the bristles of your brush together to form a line and use it to contour.
3- Large Contour Brush
Apply contour powder (two shades darker than your skin tone) below your cheekbones to emphasize your natural contours. The slanted bristles make it easier to apply products perfectly to your cheekbones.
4- Liquid Foundation Brush
This brush is perfect to blend, buff or stipple, either liquid or cream foundations and tinted moisturisers for a natural, sheer coverage.
5- Angled Eyeshadow Brush
This rounded, angled brush makes it easy to apply shadow in the corner, in the crease and all over the eyelid. Small, condensed brush hairs apply eye shadow smoothly and evenly.
6- Concealer Brush
The ideal tool for applying concealer products around the eyes and on other blemishes.
7- Small Blending Brush
Using a Blending Brush after shadow and liner application creates a natural finish to any eye look. This brush can also multitask – use it to set powder or liquid concealer.
8- Eyeshadow Brush
Use it to apply shadow to lids and brow bones, to contour the crease, and to blend.
9- Smudger Brush
This short curved brush is the perfect shape to smooth in colour along the lash line for a smoky look. Perfect for contouring and enhancing definition around the eye.
10- Angled Eyeliner Brush
Perhaps the most versatile of the bunch, these brushes are good not only for eyeliner but also for filling in eyebrows. It can easily be used with powder, cake, or gel liner.
11- Liquid Liner Brush
This slim and sparse tipped brush is useful to draw fine lines. It is mostly used to apply eye shadow on the eyelid making a straight line, for softer and natural looking eyeliner.
12- Lash/Brow Brush
This brow brush is the ideal brush for applying eyebrow powder. You can brush out your brows to soften the look.
Top Tip for Eyelash Extensions: place the brush on top of your lashes, then roll the brush over lashes to keep them defined.
The ASI Makeup Brush Set 12 pieces Rose Gold