I BELIEVE IN RESHAPING MY CONFIDENCE.
A non-surgical treatment to effectively reduce the appearance of a double chin
Lipodissolve – Double Chin
The Lipodissolve Double Chin Treatment is an individually-tailored, injectable treatment that dissolves fat cells under the chin.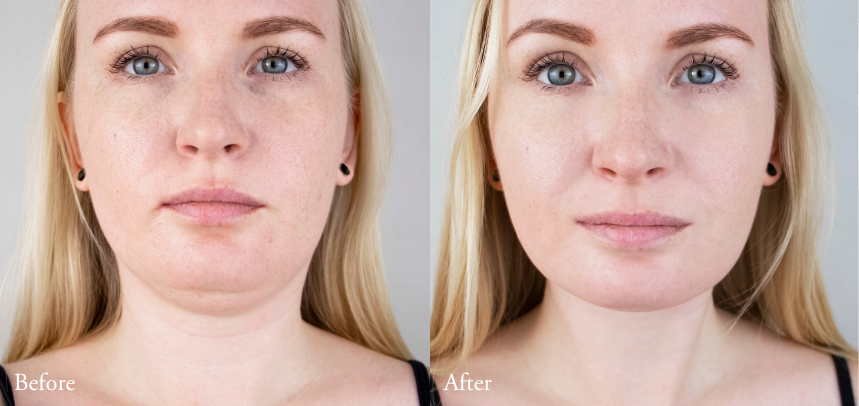 Fullness under the chin can impact how a person feels about themselves and, for both women and men, can lead to feelings of negative self-impression. The Lipodissolve – Double Chin treatment is an individually-tailored, injectable treatment that dissolves fat cells under the chin.

We'd love to answer your questions. For more information, please read our FAQs below or book a consultation with one of our registered nurses.
Pre Treatment Advice
72 Hours Before Treatment
Avoid the use of Ibuprofen, Asprin, Aleve, Fish Oils and Vitamin E Supplements to help prevent bruising.
Avoid using topical products containing Tretinoin, Retin-A, Retinol, Retinoids, Glycolic Acids, Alpha Hydroxy-Acid or other Anti-Aging product.
24 Hours Before Treatment
Avoid excessive alcoholic beverages to help to prevent the likelihood of bruising.
Day Of Treatment
Arrive 5 – 10 minutes before your scheduled appointment with a clean face – please do not wear makeup.
Post Treatment Advice
Do not wash or take a shower for at least 4 hours after treatment.
Arnica gel can be applied thrice a day for 48 hours to reduce bruising.
Do not take anti-inflammatories (aspirin) or Vitamin E for 24 hours after injections. You can use painkillers (paracetamol) for any discomfort.
Hot tubs, saunas, Jacuzzis and massages are not recommended for 48 hours after treatment. After 48 hours, these ARE recommended to assist in healing.
Avoid direct sun exposure and tanning beds for two weeks post-treatment.
Massage the treated area for about 15 minutes per day for two weeks after treatment to aid the fat elimination process.
Walking 20-30 minutes daily during the course of treatment will aid in effectiveness. Avoid strenuous exercise for 48 hours.
Drink lots of fluids (water) for the first 24 hours.
Avoid alcohol to facilitate hepatic handling of toxins.
The Lipodissolve Double Chin treatment is a nonsurgical deoxycholic acid injectable technique used to target fat cells in the chin area.
Deoxycholic acid is a cytolytic drug that physically disrupts the cell membrane when injected into the tissue. The fat released by the fat cells is then removed by the body's repair system and transferred by the bloodstream to the liver, where it is excreted out of the body.
Fullness under the chin can impact how a person feels about themselves and can lead to feelings of negative self-impression. The Lipodissolve Double Chin treatment is a non-surgical injectable treatment to reduce fullness under the chin. This treatment will dissolve the fat cells under the chin, reducing the appearance of a double chin.
The substance used for Lipodissolve Double Chin injections has been completely cleared by the Therapeutic Goods Administration in Australia, as well as the FDA in the US. Any side effects that occur are temporary.
Repeated treatments will depend on the individual and the device of our registered nurse, who will be able to advise the best time to make your next appointment if required. Many people experience improvement after two to four treatments spaced at least 4 weeks apart. A maximum of six treatments may be administered. This treatment dissolves fat in the injected area, making it virtually impossible to re-accumulate. However, excessive weight gain after this non-surgical treatment may reverse your results. Therefore, we recommend you follow a healthy diet and exercise plan to limit dietary fat and maintain your results.
The usual procedure for patients looking to dissolve chin fat permanently is:
A cosmetic injection consultation with our registered nurse is conducted. Your nurse will discuss your background, medical history and and contraindications to the treatment.

A treatment plan will be designed to set out how we can use the fat dissolver (possibly in conjunction with other techniques and tools) to create the chin and jawline you desire.

The number of injections during a single session can vary from 20 to 50, all in the underside of the chin.
Double Chin Fat Dissolver injections are administered by a medical professional using a very fine needle. Many people say they feel like a mosquito bite. Without local anaesthesia, we would rate the pain of the injections at around 0.5/10.
Results will vary from client to client, but you should expect initial swelling and discomfort, which can be treated with ice and simple over-the-counter pain medication.

The most common side effects associated with double-chin-reducing injections include pain at the injection site, swelling, bruising, numbness, redness, tingling, the formation of small areas of hardness, warmth and discolouration, and itching around the treatment area.
Yes. Dermal Rolling and Dermal Fillers are great treatments if you're looking for a complete facial overhaul. However, waiting two weeks after your procedure before undergoing any treatments is advised.