What Is Brow Lamination? And why you'll be obsessed with the results!
Make the most out of your brows with the ultimate brow transformation treatment guaranteed to have your brows looking fuller, fluffier and gorgeously groomed for up to 8 weeks of fuss-free wear.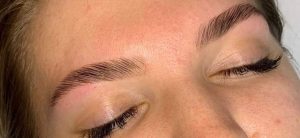 For those of us who struggle with unruly, wiry or just generally uncooperative eyebrow hairs that always seem to insist on laying in the most unflattering shape possible, no matter how much we brush and fluff… rejoice now, because Brow Lamination has taken the eyebrow make-over to a whole new level… and you will be obsessed with the results!
What is a Brow Lamination?
Brow Lamination transforms sparse, thin or difficult to manage eyebrows by smoothing and straightening unruly and hard to manage hairs and semi-permanently fixing them into a 'brushed-up & over' style.
This repositioning of the brow hair instantly thickens the brow, creating fullness and definition by covering gaps and sparse patches, as well as helping to soften and straighten coarse and messy hairs.
Also referred to as a 'brow lift' or a 'brow perm', our Brow Lamination procedure is the perfect way to achieve instantly fuller looking eyebrows using your existing eyebrow hairs. From bold and fluffy, to a subtle, smoothing lift (and everything in between) - Brow Lamination will make your brows easier to style and manage, and is a great alternative to more permanent treatments such as
Feather Touch Brows
.
What does a Brow Lamination procedure involve?
Brow Lamination works like a traditional hair perm except, instead of curling the hair, the process essentially flattens, smooths, and straightens the eyebrow hairs.
It's an easy, relaxing and pain-free procedure that involves the application of a specially formulated lifting cream which works to soften the bonds that give brow hairs their texture and shape. Once these bonds are soft, the brow hairs are brushed and combed into their new position and set into shape with the application of a neutralising cream.
Once set, a nourishing keratin treatment is applied to replenish moisture and restrengthen the hairs before being brushed and fluffed into their final shape.
If the brows are a little over grown,
waxing, tweezing and a little trimming
may be required to define the shape. And lastly - for those who love a bold brow - a tint can be added to create high-definition arches and tails.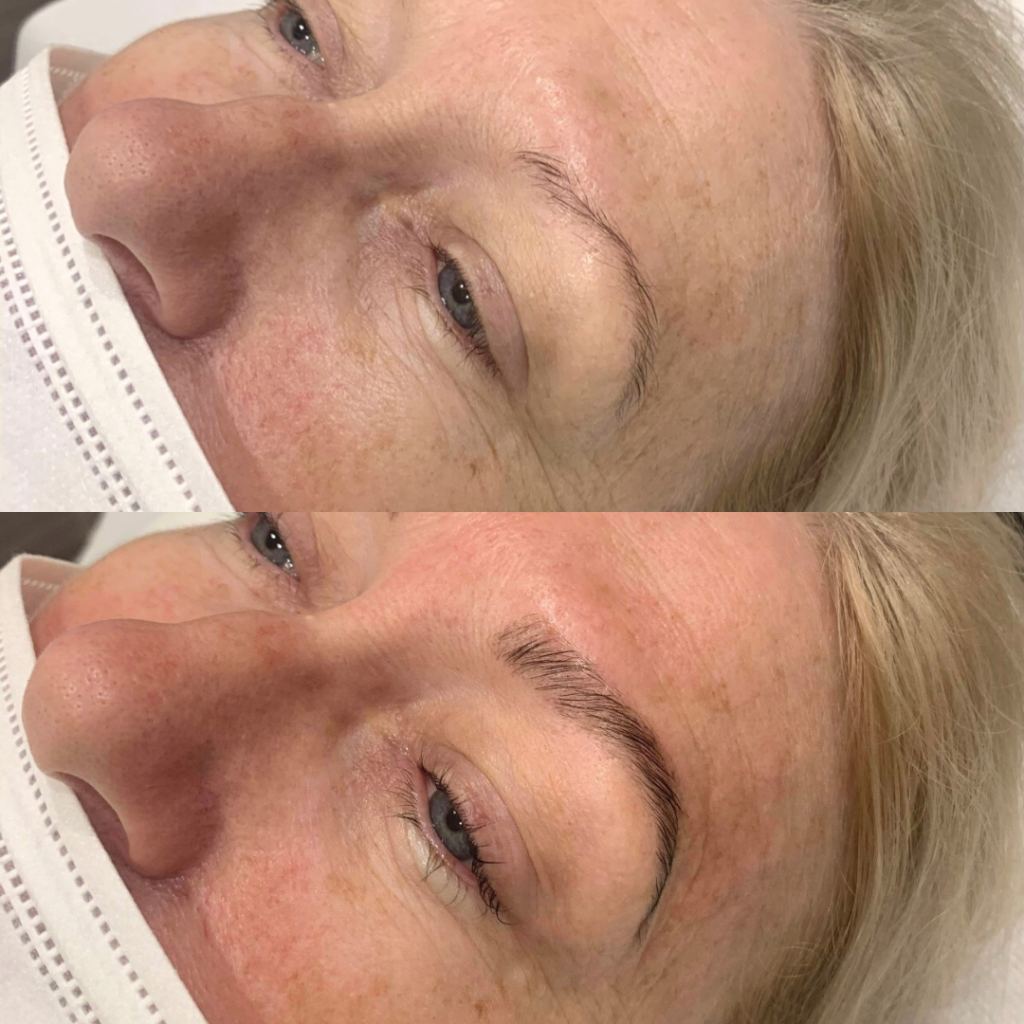 Does Brow Lamination need maintenance?
Yes, the results of a brow lamination will usually last up to two months, after which time the process will need to be repeated to maintain the style.
Between appointments, conditioning and nourishing the brows at home is important and is as simple as applying a specially formulated conditioning oil that also works as a gloss-and-go styling product to help keep the hairs in place.
Is there any Brow Lamination pre-treatment advice?
Although the brow lamination treatment products have been specifically designed to be used on eyebrow hair, it is not recommended performing the procedure over henna tinted brows. Waiting two weeks before proceeding with brow lamination will allow time for the henna to fade and grow out enough to make it appropriate to perform the brow lamination procedure.
Similarly, if the skin around the brow area has had significant sun exposure or is sensitised in any way, check in with your brow lamination specialist to make sure the skin will not be further irritated by the procedure.
The team of brow specialists at Brazilian Beauty are experts at creating, beautiful, feature flattering eyebrows for their clients and have been specially trained in safe and effective brow lamination techniques.
With 9 convenient locations across Brisbane and a simple click and go booking system, keeping your eyebrows looking on-point is quick and easy.
You can read more about our Brow Lamination treatment
here
or book an appointment by downloading the
Brazilian Beauty App
and instantly get rewarded with $20.00 in loyalty points!