LOVE your lashes: 3 ways to instantly BOLD up your lash look
Many of us know the power that big, bold lashes can bestow on a girl (or a guy… hey, boys deserve great looking lashes too!).  Get your lashes looking on point, and you may just score yourself that new job, that skip-the-line at your favourite club… or that sexy looking other you've been madly fluttering your eyelids across the room at.
Having darker, longer and thicker looking lashes, frames the eyes, making them seem bigger, more youthful and more alert.  And, (psychologists explain) that it's this innocent, baby faced  and doe-eyed appearance that can help you win over your enemies, elicit help from a stranger and even get ahead in your career. 
B
ut while eyelashes have the impressive ability to transform your face (and your superpowers)... sometimes that simple swish of the mascara wand or DIY strip lash application can end up more like 'egg on your face' and less like the sexy seductress you're channelling.  
But don't worry. You can totally ditch the mascara, skip the panda eyes and still rock some lush, long lashes with these 3 lash enhancing treatments that will instantly level up your lash game!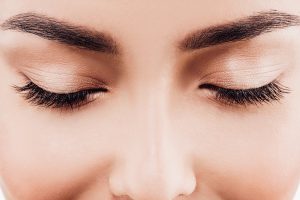 Sidestep the clumpy, smudgy mascara and enjoy 24/7 perpetually inky-black lashes with this ultimate make-up alternative.   An Eyelash Tint is the perfect, low maintenance way to fake a fuller, longer lash look without the need to apply mascara on the daily.
If you have light, blond or grey lashes, you'll see a dramatic difference however, even those with lashes that are already blessed with colour will see their lashes looking glossier and longer.  That's because even on darker lashes, the tips can become sun bleached or faded.  An eyelash tint coats the lash with intense colour from the roots all the way through to the tips - accentuating both the thickness and the length.
Although lash dye is permanent, the effects of a Lash Tint last around 4 weeks and gently appears to fade as your lashes move through their growth cycle, but with the treatment being so quick and easy to have done, you can schedule a monthly appointment into your lunch break and still have time to line-up for your afternoon donut and caffeine fix.  Win, win!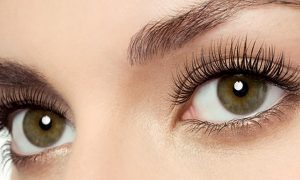 If you think your lashes are short… then think again.  Most likely, it's more to do with the direction and angle your lashes are growing on rather than their length.  For most people, their lashes tend to grow straight outwards, rather than upwards, making eyelashes appear short or invisible.  A Lash Lift gently curls, stretches and angles your natural lashes upwards so that the whole lash is visible (from base to tip) when you are looking at yourself straight on.   
Essentially a perm for your natural lashes, the results typically last up to six weeks and looks amazing teamed up with a Lash Tint.   The procedure also includes a nourishing keratin treatment that strengthens each lash and gives them a glossy finish.
As with an eyelash tint, the effects of a Lash Lift will gently drop over time, and you will need to have the process repeated every 6-8 weeks to maintain your fluttery lash look.  But the results need to be seen to believed and with all the time and effort it will save you - not having to fiddle with sticking on strip lashes or fighting with your mascara wand - it's well worth a visit to your favourite
Brazilian Beauty
clinic.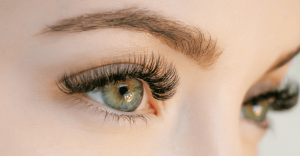 If 'drama' is your middle name then Eyelash Extensions may just be your cup of glam.  Available in various styles, eyelash extensions are semi-permanent fibres that are attached to your natural eyelashes in order to create extra length, thickness and fullness.
While eyelash extensions are applied on a one-to-one basis (meaning one extension is attached to each natural lash), the extensions themselves come in options of singles or fans of 3D, 4D and 5D (and sometimes more).  For each one of your lashes, as fan of 3,4 or 5 lash extension is applied to instantly amplify the volume and density as well as the length.
A lash extension appointment takes around 1-1.5 hours, depending on the look you want to achieve and although you will need to return every 2-4 weeks to have any lashes that have dropped out 'filled in', once your lash extensions have been applied, you will have a 24/7 glam lash look without the need to apply any mascara or use any lash curlers at home. 
If you have never tried lash extensions before, it's a good idea to talk to your lash specialist to get some advice on the best length and volume choice for your lashes. The experienced team at
Brazilian Beauty
will be able to guide you with choosing the best fit for your lashes and style, so that you can enjoy your new gorgeous lash extensions without jeopardising the health of your natural lashes.