How Nurse Rachael Owns Her Own Style Of Beauty
You may have seen them in-clinic and wondered; What do you do to look so good?  We ask our team beauties to share why they joined the industry,  their own skincare philosophies and tips to confidently owning their own style of beauty.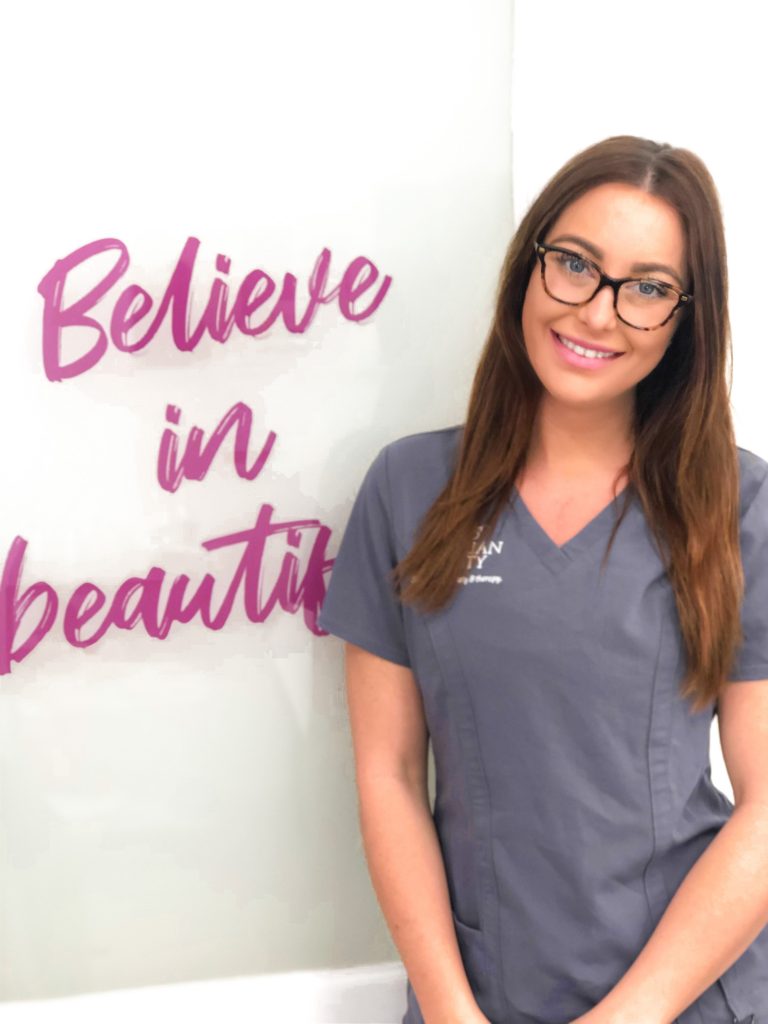 RN and cosmetic injectables specialist, Nurse Rachael is no stranger to beauty.  She herself has it in spades.  Beautiful, intelligent, super talented.   This bubbly, beach loving, self-proclaimed 'cactus enthusiast' has always had a passion for helping people… an inner beauty you'll instantly note when talking to her.
A born and bred Queenslander who started her career in 'helping people' with a 5-year stint as a lifesaver on the beaches of Townsville; Rachael studied nursing at James Cook University before joining the medical surgical departments
at The Townsville Hospital.  Here, her residency sparked an interest in nursing for patients needing critical care and so, 18 months ago, Rachel grabbed her favourite cactus and her pooch Layla and moved to the 'big smoke' (that's Brisbane, for a girl from Townsville) to work in the intensive care unit at The Princess Alexander Hospital,
while she completes her post-graduate studies.
"I've always just had this need to help and care for people but I have also always loved the thought of empowering people to feel confident and good about themselves", Rachel says.  "I studied Beauty Therapy about 12 years ago… OMG!… don't mention that!", she says with a giggle.  "I also considered dentistry but my decision to take the path of Cosmetic Aesthetics was a way to combine my passions and offer my clients empowerment through beauty.
"Everyone is beautiful.  
Some people just need a little help seeing it"
Now with over 5 years of experience in cosmetic injections, Rachael has joined the Brazilian Beauty medical aesthetics team and offers her unique approach to facial rejuvenation with a holistic view in mind.  "I love being able to show my clients how a little tweak here and a little adjustment there can instantly freshen and uplift the facial features.  My absolute favourite is working on the mid to lower face.  This area can really age someone's appearance as the cheek muscles and skin slip forward and downward towards the jawline.  But we can reverse this by strategically re-establishing some structure back into the cheek area to gently lift and contour the face", she explains. 
And as for herself?… apart from cosmetic injections, Rachael's favourite treat for managing her own skin is with
Collagen Induction Therapy
(better know as Skin Needling or Vampire Facial).  Great for keeping skin tone and texture looking smooth and firm, Rachael explains that Skin Needling actually stimulates our own collagen to grow within the skin, not only helping the skin stay firm, smooth and plump but also improving the appearance of issues such as pigmentation, acne scarring and broken capillaries.
At home, Rachael never skips her daily application of vitamin A.   "Vitamin A is the most active ingredient you'll find in skincare", she explains.  Vitamin A is great for keeping fine lines, wrinkles and pigmentation at bay but if you suffer from Acne or the occasional break outs, Vitamin A will actually decrease the oil production that feeds the p-bacteria, reduces blackheads and congestion and increases the rate of wound healing to help with scarring.  "I use the
Vitamin A Corrector from ASI
at night before bed and then in the morning I make sure I always use a sunblock", she says.  The
Rejuvenating Day Cream with SPF
from ASI uses zinc as a physical sunblock; a fantastic chemical free option that effectively shields the skin by reflecting both UVA and UVB radiation from the second you apply it to your skin… so you don't need to wait 20+ minutes for the sunblock to take effect.  Plus Zinc also side-hustles as an anti-inflammatory & anti-bacterial agent, helping to alleviate Eczema, Dermatitis and active Acne. 
"Age is just a number… and you don't have to look it"
So, when I asked this cactus loving, life-saving, beach loving cosmetic injection specialist her best advice for feeling beautiful?  "Doing something is better than doing nothing at all!", she replies.  "Not just in regard to beauty but in regard to life in general".  Well said.