Why Anti-Wrinkle Injections are the Best Preventative Wrinkle Treatments
The biological process of skin aging following different trajectories in the tissues, cells, and organs is complex. It is scientifically known to be triggered by a compound of factors including intrinsic or endogenous and extrinsic or exogenous. Prematurely aged skin leads to a phenomenon of deep wrinkles, dullness, thickened epidermis, laxity, and mottled discolouration. With the fact that the skin's beauty and health are considered the principal representatives of health and wellbeing, different anti-ageing strategies have been launched and tried over the years, with anti-ageing injections being the most sought after.
How Anti-Ageing Injection mechanism of Action Works
Also known as wrinkle fillers, these are bacterial neurotoxin-rich treatments, a natural protein drawn from bacterial cultures. These can be used as medicinal and cosmetic applications, but in the right dose, otherwise, they could poison the skin.
Anti-wrinkle injections
(non-surgical face fillers) are used to addresses wrinkles and other signs of ageing. Wrinkles occur following repeated contractions of the underlying musculature of the skin and dermal atrophy. After an injection on the affected area, localised muscle relaxation results, smoothening the skin, and reducing frown lines. At a cellular level, this treatment can be used to remodel and rejuvenate the skin, as well as improve the facial features. It is a treatment method that is mostly used to reverse ageing but can also be used by anyone above the age of 18 years to remodel the facial features. Some of the skin ageing concerns wrinkle fillers address include:
1. Expression Lines
Anti-wrinkle injections are used to correct crow's feet (dynamic lines appearing on the outside corners of the eyes) also known as smile or character lines and other expression lines caused by muscle contraction and facial movement. These may include frown lines (vertical lines between the eyes referred to as glabella lines) and forehead lines (horizontal lines that form due to repetitive eyebrow function).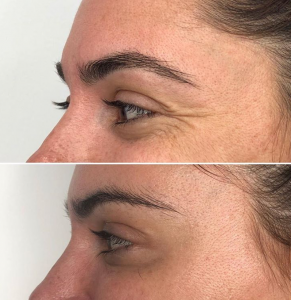 Crow feet before and after the result
2.Restore Facial Balance
Anti-ageing injections, when administered professionally, can enhance the facial symmetry and balance, resulting in a softer and brighter appearance. Injections can enhance facial symmetry giving a blow lift and reduced sagging skin.
3. Reduce Fine Lines and Wrinkles
Injections can be used to relax different facial muscles such as those in the neck and jaw. They also soften existing forehead and frown lines and prevent the development of lines in the future. Anti-wrinkle fillers basically relax the muscles upon treatment within a specified area. They have a brief sting and cause temporary paralysis to the area injected. This treatment has a localised effect which prevents the formation of wrinkles in the future. However, certain factors such as smoking, high UV exposure, and the structure of your face may limit its efficiency. In some cases, a combination of injections and other rejuvenation treatments may be used. For instance, if the quality of your skin has been largely affected by sun damage, a combination of treatments may be used to soften the texture. It is a safe process that should only be executed by a licensed specialist because it interacts with nerves.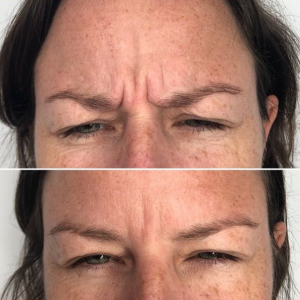 Forehead wrinkles before and after
How Long Does it Take for the Results to Show?
Results may take about 7 days to reflect. You might notice some of the features on your skin hardening, in turn, reducing dynamic lines. This is because injections block the impulses of the nerves. The results may last about 4-6 months before a repeat of the same process. However, some results last longer, given that skin types are unique. Approximately 4-5 treatments are required each year for the maintenance of the desired effect.
Possible Side Effects
Like any other form of treatment, anti-wrinkle injections have their fair share, although most side effects are mild. They include:
Temporary soreness
Mild bruising
Rare and mild headache
Possible drooping eyelid lasting a few days (Although not necessary, it can be treated using eye drops)
If you suffer from neuromuscular disorder, are pregnant or breastfeeding, you may not be a candidate to this form of treatment. Other anti-aging treatments can be recommended.
Discovering Anti-Ageing Injectables Advantages
An increased number of patients now prefer anti-ageing injection procedures. For the assessment of your suitability for anti-wrinkle injection, you will require an initial consultation with your local Brazilian Beauty Clinic or Salon. The clinic should provide you with before and after photographs to illustrate results obtained from the treatment.  
Contact us
 for more information on beauty treatments.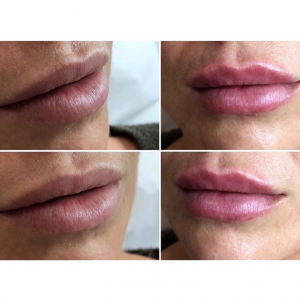 Lip filler before and after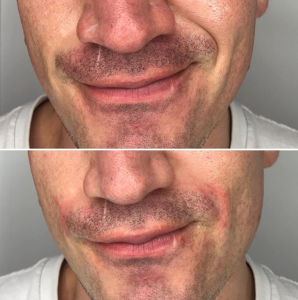 Smile lines before and after