OWNING HER OWN STYLE OF BEAUTY – Bella Z
How Bella Z Owns Her Own Style Of Beauty
You may have seen them in-clinic and wondered; What do you do to look so good?  We ask our team beauties to share why they joined the industry,  their own skincare philosophies and tips to confidently owning their own style of beauty.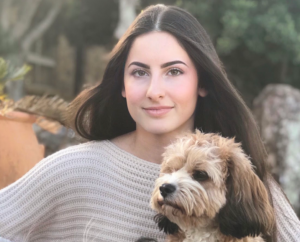 If there is any truth in the old adage "The apple doesn't fall far from the tree" then this beauty is surely proof of that.  One of the newest team members to join our Cannon Hill clinic is Bella, now a 'third generation' Beauty Therapist with an industry pedigree that only few in this country can rival.  "My mum was a Beauty Therapist and my Grandmother was also a Beauty Therapist who then became a very well known Cosmetic Tattoo Artist.  She was one of the first to introduce permanent make-up to Australia back in the mid 80's and, with my mum,  ran a very successful salon in Brisbane for 40 years", she explains.  Growing up, Bella would often spend time in the salon, playing with the wax and nail polishes or getting up to mischief in the treatment rooms.  "The salon was often my after school hang-out… I experienced a lot of beauty 'firsts' at a very young age.  I loved seeing all the elegant ladies coming in for their treatments and so I wanted to try everything too!" she recalls.
It would be easy to assume that Bella's choice to also join the beauty industry may have had a biased hand but, she explains, her mother actually tried talking her out of studying Beauty Therapy initially.  "Yes, mum did try and steer me in another direction but I was adamant that working in the beauty industry is what I wanted to do and so now she is very supportive.  I found out later that mum was also making sure that I wanted to pursue a career in beauty because it was what I actually wanted and not because it was something I felt predestined to follow… you know, cause of our family history". 
So what does a third generation Beauty Therapist do to keep herself looking good?  Well, for starters, Bella says it's ALL about the brows.  "They can make or break you", she laughs.  "Seriously, these days there is absolutely no excuse for bad eyebrows, she explains.  "There is pretty much a solution for every brow problem!  Got sparse brows?... tint them.  Got no brows?... tattoo them.  Got unruly brows?... laminate them!"  She advises, "A beautifully shaped and balanced eyebrow is an inexpensive way to keep yourself looking fresh and groomed."
And when it comes to her skin, Bella is mostly investing in the future.  "Well, I'm 19 so my skin still breaks out and I get blackheads and blocked pores…. and when I get stressed my skin goes tomato red", she giggles.  "At home I give myself a quick skin needling (Dermal Roller) session once a week.  I find this really helps to keep my breakouts under control.  It oxygenates my skin and stimulates the circulation… bacteria hates this so it stops the Acne from progressing.   Also skin needling is fantastic for strengthening the skin and building collagen.  Not that I need that now but I know wrinkles will eventually come and if there is one thing I've learned about skin is that prevention is far easier than cure…. always stay one step ahead."
That prevention includes a 4 step daily skincare routine using fresh and active cosmeceuticals to keep her skin balanced and on point.  "Cosmeceuticals contain potent ingredients, like Retinol or Ascorbic Acid to bring visible and scientifically backed changes to the skin", she explains.  "These ingredients have the ability to work on the skin at a cellular level, so you're not only treating your skin to look good now but you're also treating your skin so it will keep looking good next month, and next year and in 5 years time too".  Bella double cleanses with a gentle foaming cleanser (ASI Rejuvenating Foaming Cleanser) to remove make-up and pollutant build-up from her skin then follows this up by applying a Vitamin B3 serum - Niacinamide (ASI Vitamin B3 Complex), which not only helps to control her redness but also is fantastic for calming break-outs and reducing excess oils.  During the day an application of a Zinc based moisturiser (ASI Rejuvenating Day Cream) not only adds and locks in moisture to her skin but also acts as a natural and physical sun protector without the irritating chemicals.  "And at night, I swap out my day cream and use a night cream with Vitamin A instead (Rejuvenating Night Treatment), she says .  "I get freckles from the sun, which will eventually turn into bigger sun spots as I get older so the Vitamin A helps to fade and keep my freckles under control now so that I won't need to deal with serious pigmentation later".
We finally ask Bella her one tip for 'owning your own style of beauty'.  She replies, "Be authentic to yourself.  We are all individually beautiful.  Owning it is being able to firstly see it for yourself… but you won't see it if you're not being authentic.  Just be you on your own terms and the beauty will follow.