How to handle scary skin moments
It was a day like any other, except this day I had the terrible misfortune of waking up with a colony of pimples marking their territory all over my face.
I woke up, looked in the mirror… and was horrified! Had time gone backwards? Was I a teenager going through puberty again?
Adult acne breakouts are embarrassing, ugly, and difficult to cover up. I picked and squeezed at the little mongrels until they were angry and throbbing red. I know - big mistake..Then I panicked! I thought to myself, "Today I have a shoot and these disgusting, red zits aren't going to be easy to hide".Without so much as a second thought, I quickly contacted my local Brazilian Beauty expert for advice. She provided me with some of her best tips for a quick fix!
How to reduce the look of breakouts
Lightly ice your face (this helped with swelling).
Wash with cold water, not hot.
Soak your face in oatmeal. Yes, that's right, the stuff you eat for breakfast. It cleanses your pores and absorbs excess oil. Google it - so gentle and soothing.
Wear some light, daily moisturiser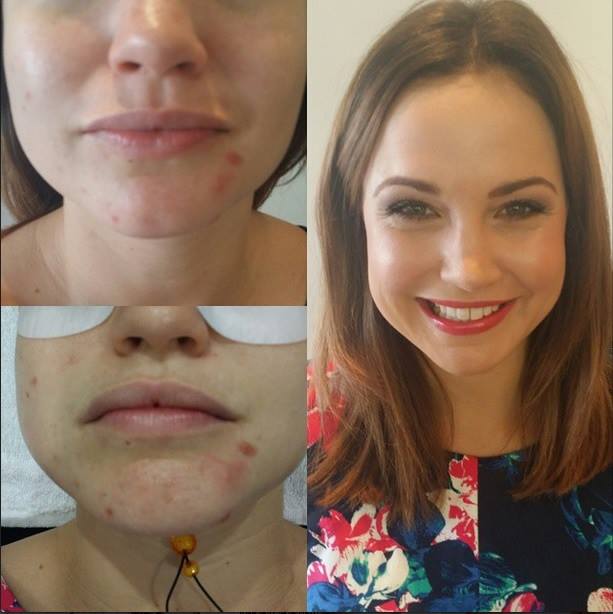 I then ducked into my local BB salon, and treated myself to an ASI facial and 20 minutes of LED light Therapy treatment (it;s the best at fighting active breakouts!).The pictures don't lie, people! Take a look at how much the blemishes faded in just 30 minutes.
Owner of the Keperra store (north-west of Brisbane CBD) Lisa Thompson then kindly glammed me up for a day in front of the camera. She used using Youngblood Mineral Cosmetics for a naturally flawless look. The before and after photos speak for themselves - I felt like a million dollars! I highly recommend the LED Light Therapy Treatment for men and women of all ages for its super powered pimple fighting properties. In my opinion, it instantly brightens and heals the skin.
Just a little tip of my own – I believe food/vitamins/minerals can play a crucial role in how skin behaves (well it certainly does for me). I find when I drink Vitamin B supplement drinks and sprinkle chia seeds on my oats in the morning, not only does my skin feel and look better after a week, my energy levels go through the roof.
If you have a terrible break out, it won't be as noticeable if you're beaming with positive energy and happiness. For long-term breakout fixes, your local Brazilian Beauty salon is your skin's hero!