Before and After Eyelash Extensions
Eyelash extensions are comprised of numerous individual, semi-permanent eyelashes that are bonded to your natural eyelashes.
These extensions remain on your eyelashes until they begin to shed naturally; this process generally occurs over a time period of four to six weeks. 
At Brazilian Beauty, we offer lash extensions in a variety of thicknesses and lengths so that you can walk out with the perfect match:
-Silk individual lashes
These eyelash extensions are made out of synthetic silk that is shaped to resemble the bend of your natural eyelash.
Silk eyelash extensions are thinner at the tip and grow thicker towards the bottom.
Generally, a single lash is applied to each natural lash.
-Russian volume lashes
Russian volume lashes, also known as 3D volume, is the use of multiple ultra fine extensions, that are hand created at the time of application by the therapist using their specially designed tweezers.
The therapist creates bouquets of eyelash extensions that are then placed onto the natural lash in a fanned effect, to create extra fluff, coverage and fullness than cannot be created with classic extensions.
-Extreme Russian volume lashes
The main difference between Russian Volume and Extreme Russian Volume processes is the number of lash extensions used to create the fan of lashes, as well as the diameter of the fan.
Extreme Russian volume lashes create a super full and glamorous look.
Your professional beauty therapist will work closely with you to determine which lash length is best for your facial features.

Because we offer a variety of eyelash extension lengths and thicknesses, we'll take a look at your natural lashes and assess your wants and needs before selecting the extensions we'll use. 
When you look at your natural eyelashes, you may be able to notice that the lashes towards the centre of your eye are shorter and finer than those on the edges. 
We replicate this natural look with a variety of lashes in order to help create a perfect natural look; more dramatic looks are also available if desired.
Pre-Treatment Advice


Before you come into the office to get eyelash extensions, remove contact lenses and any mascara that you're already wearing.
Waterproof mascara, especially, can pose problems during the application process.
Many experienced beauty therapists recommend putting in a request to add an eyelash tint to your appointment before you come in.
Before and after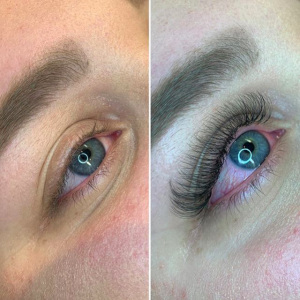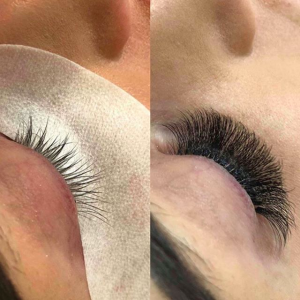 brazilianbeauty.com