$199 FEATHER TOUCH BROW TATTOO
$199 FEATHER TOUCH BROW TATTOO – Part A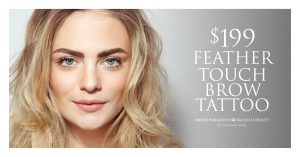 Give yourself perfect fuller-looking brows all day, every day!
Cosmetic Eyebrow Tattooing is a natural enhancement of your eyebrows that creates the illusion of a fuller and more defined shape from the application of individual hair-like strokes. You will feel more confident without makeup, knowing your eyebrows are always perfect.
At Brazilian Beauty, your Feather Touch Brow Tattoo – Part A treatment includes:
A consultation to determine the perfect brow shape and colour
The Feather Touch Brow Tattoo treatment
We recommend booking in for a complimentary consultation to see more incredible before and after and talk to one of our Professional Brow Artists to see if The Feather Touch Brow* is right for you.
Limited time only.
Not to be used in conjunction with any other offer.
*additional cost for microshading